***Fundraising status -
WE would like to thank the donors today who have contributed in moving our balance deficit down to $140 and that is bare minimum we need to continue this work by the first. Today is the 2

2nd

and that leaves us 8 days to obtain the b

alance, so

Please, if you benefit in anyway from our efforts, and can afford it, we ask that you contribute to the cause on the pay pal button off to the right of the blog. We do want to thank everyone that visits here, reads our offerings, and passes it on to others, since that supportive work is very important to the spread of truth and a genuine awakening. God bless you for all you do to aid us in this endeavor.
We will prevail.
Vatic Note:
Oh this is a MUST READ AND WATCH. What a deep expose this is. Truly in all the work I have done over 3.5 years, I have never come across such deep and comprehensive research as this has been. Good for you STew Webb. The entire Satanic and alien conditon is put into perfect perspective and explains so much and fills in so many gaps. Even RH negs are described in here, only on the bad guys side.
That means we may well have good guys here helping us, but that is just another rabbit hole we need to go down. If I am right about that, then there is much we can do because RH negs outnumber the bad guys by a huge amount. I think that is why they try to track us. Many are RH positive, but are carriers of only one neg gene but have all the same traits. Now all we have to do is find the key to making it work as it does for the bad guys.
I think we are close to an answer on that, but that is for another blog. I have at least reached the level where we can heal ourselves and it holds. I proved that personally on two different medical problems that could not be solved simply by waiting for it to pass. One was teeth infections and the other was debilitating arthritis. Both are still healed after 5 and 6 months respectively. Now we just have to reach the next level where the evil ones are operating.
Bush is also the recipient of the Medal of freedom that Obama awarded him, for his work in bringing down America. He was also baptized "Magog" at the Bohemian Grove, so he has been awarded by both the USA and the NWO satanic Luciferians for his work in destroying our nation which began in seriousness, during his reign as emperor of America in the 80's, when he shipped all our wealth producing industries overseas, like agriculture.
He was President during the Reagan administration after his failed assassination attempt on Ronny Reagan. I think they offered Bush the Presidency de facto to ensure Ronny would continue to live.
We used to feed the world, but now it has been sent over to third world countries where slave labor allows for excessive profits. Because of that our "teens" lost seasonal jobs like picking strawberries in early summer, and apples in the fall, resulting in the highest unemployment for our teens, ever....then our family farms were under attack and many had to sell out to survive. Same thing happened with our manufacturing. I remember when he did it.
In reading this I am beginning to realize just how important the Book of Enoch was in the Bible. It had chapters upon chapters about these fallen angles and the watchers. So, I am going to go back and take another look at all this. This also helps explain what I saw with Daddy Bush back when he lost his cool running for re-election in 1990 against Clinton, when he got mad and shapeshifted right on TV raw live feed. It only lasted a few seconds, but it was the most memorable sight I had ever seen.
Remember during our travels for information and truth, we occasionally ran across how the Illums wanted immortality and were working on achieving that? Well, read below in the interviews why that is. Ask yourselves why Rockefeller is still going strong in his mid 90's, as well as ugly, big, fat butt kissinger and finally Zbig as they are all in their 90's. This below explains it very well.
AS I am reading this, I am beginning to understnd why these guys are afraid of RH neg people, and track them and monitor DNA. I believe, from the evidence I have seen that these Negs also have the same psychic abilities and the same POTENTIAL that the evils ones know about that they use on us. I bet they are afraid of the RH negs discovering the secret to using these powers. Hmmm, an interesting rabbit hole to go down.
I remember a while back I was ruminating in my head, as I am wont to do when my mind is idle, about wanting to live to 150 and all of a sudden a voice said "You are never going to die". I freaked out. lol
I have had voices clearly say things only 3 times in my life and that was one of them. The rest of the time, I get "feelings" and they are always right.
Wait til you read about the alien brain below and how it works in humans taken over by these guys. I do not know if all this is true, but I do know that these times require that we keep an open, yet discerning mind. Shut the door on nothing and question everything.
Daddy Bush the Illuminati Wizard of Oz
http://www.veteranstoday.com/2013/09/17/daddy-bush-the-illuminati-wizard-of-oz/
by Stew Webb, for Veterans Today
Bush with his Baphomet the Goat Headed Demon Hat
The Alien Brain/ Illuminati Connection
It's important that the reader first get some basic understanding of the Illuminati Alien connection. Many in the UFO field are not aware that Aliens are the Fallen Angels as described in the Bible.
These Aliens and their helpers are demonic in nature and fear Jesus Christ. This has been proven by MUFON investigator Joe Jordan through his own research. Joe now has well over 400 fully documented cases where an alien abduction was immediately stopped in the name of Jesus Christ!
He states correctly in the video that this secret is the biggest secret in the entire UFO field! This is the secret that is never told in the alien movies, TV shows, books and even at the UFO conferences! The evidence that Joe collected actually led him to Christ as he was an atheist when the first Christians began telling him their stories!
Here is the evidence from Joe Jordan.
Ed Slade was an Area 51 scientist and my personal friend. He also designed the rocket in the lunar module that went to the moon. Ed worked with the aliens at Area 51-52 for many years. In the following interviews, Ed relates how he discovered that the Aliens at Area 51-52 were actually the Fallen Angels as described in the Bible.

He states in these interviews that these Fallen Angels could read his mind and could turn a bread sized loaf of a special element into a UFO craft using only their minds. Ed was killed after giving these interviews.

Ed Slade Interview #1
Ed Slade Interview #2
The Alien Brain (Buried in this is our solution)
From what I've been able to gather so far, there are approximately 200,000 of these fallen angels on the planet walking around as humans. They take over humans in positions of great power within the Illuminati control system just like a demon possession but with a significant difference.
When a Fallen Angel possesses a human, the human gets what is called the Alien Brain. Something happens to their brain and they get more than just the 5 senses. One thing I've learned is that the Alien Brain gives the human a much longer life than normal.
This life can be as long as 150-200 years in some cases. I'm told that within 50 years, all human diseases will be eradicated by these Fallen Angels and they will extend their lives in the human bodies from 200-600 years.
In addition to long life, the Fallen Angels give the human they occupy psychic powers so that they can avoid death by accidents or assassination. For example they would know to avoid a certain meeting because they knew a sniper was setting up to shoot them.
Having the "Alien Brain" is the ultimate goal for many of the Illuminati members that know about it and it becomes a twisted competition between them to see who can do the most evil to impress their boss – Satan. Do we have any of these "Alien Brain" Fallen Angel types in our Congress?
If we do, my bet would be somebody like Joe Lieberman who is slick and has relentlessly pushed for war and has received drug money from the war in Afghanistan. McCain is also an Illuminati war whore but he is just an opportunist in my opinion. Senator John McCain relentlessly has pushed for Illuminati-Zionist wars and has also received drug money from the war in Afghanistan.
"It's been known for quite some time that the Bush family are Generational Satanists" – Anthony Lavey
I first became aware of the Bush family ties to Satanism in the 1990s from U.S. Intelligence sources. This information came to me because of my investigations into my former father in law, Leonard Millman who is a Knights Templar and one of the Illuminati Council of 13 members along with George HW Bush also known as "Daddy Bush" or "Poppy George".
The Illuminati Council of 13 is the very top of the Illuminati pyramid food chain directly below the all seeing eye which represents Lucifer. The Bilderbergs and Bohemian Grovers do not rule the world as many gatekeepers in the alternative media have long claimed. Those attending the Bilderberg and Bohemian Grove meeting are actually very minor compared to the Council of 13 – about 8-10 levels down the food chain!
Alternative media gatekeepers continue to censor all stories by
VeteransToday.com,
the number one alternative website and Magazine covering the Illuminati crime syndicate and who runs it! Alternative media gatekeepers and shills are only concerned with selling water filters and keeping their fans on their sites and on the sites of known shills such as Matt Drudge a true Israeli Debka stooge who only links to mainstream fake news sites!
My sources have confirmed that the Illuminati Council of 13 conducts a satanic sacrifice twice a year on June 21
st
and December 21
st
during the summer and winter solstices. This was fully exposed to the world for the first time by myself on VeteransToday when VT broke the "biggest story of 2013" as described by Senior Editor, Gordon Duff.
VT Was Right: Illuminati Sacrifice Busted!
In the story linked above, Sammie Lamon Wallace was shot and killed while trying to kidnap a 2 year old in a Walmart. The entire event was caught on camera and even put on the local news before being censored nationally. Before he died, Sammie admitted to his involvement with the Illuminati and that he was kidnapping the kid for their sacrifice on June 21
st
of 2013!
The FBI and local police searched his home and concluded that Sammie was in fact working with the Illuminati based on evidence they collected. During the local news broadcast, it was stated that the locale Police confirmed that the Illuminati was a known satanic cult! This amazing story never even appeared on the websites of the shills in the alternative media once again proving that they are in fact aiding the Illuminati through their censorship and gate keeping activities.
During these Illuminati Council of 13 sacrifices, those involved kill a young child and drink the blood believing it gives them special powers. I have been told they do this child sacrifice during the summer and winter solstice to summon Lucifer who will only appear to the Illuminati Council if a child is sacrificed.
One of the long standing Satanic members of Satanism who got favor from the Council of 13 has been Anton Lavey. Anton Lavey is basically Satan's little helper on Earth. His job is do everything possible to spread Satanism around the world he even introduced Satanism in America.
Anton Lavey
Anton Lavey founded of the Church of Satan in 1966. He is referred to as the black pope. The head of the Church of Satan in the United States is in San Francisco but it has many churches spread around the United States and the rest of the world along with many other organizations that are tied to it in their twisted family tree. The Church of Satan is guided by the Illuminati Council of 13 the very top 12 in the Satanic food chain the 13
th
is Baphomet the Goat Headed Demon Satan himself.
(VN: Remember Bush's hat with the Goat god head on the front, but also remember I told you about a military officer probably a colonel or general at the grocery store, where I saw him with a Baphomet T-shirt on the back, and he was very military in hair cut, clothes, etc and I asked him if he was in the military and he got very flustered and asked "why did you say that?" and I said, because of your t-shirt. He grabbed his bag and practically ran out the door. Even the clerk shook her head since he never answered me. So our military is infused at the highest levels with the Satanists, and the good guys were all purged by both Cheney and Obama, or should I say Biden?)
Denver International Airport's Statue of Baphomet popping out of a Briefcase
The airport was designed and build by
Leonard Millman an Illuminati Council of 13
member now hiding in Cuba after faking his death in 2004 and now living with his 26 year old artificially inseminated pregnant wife while his 88 year old Denver widow thinks he is dead. If she only knew that the Alien Brain in Leonard Millman seeks younger demonic woman not worn out old Witches meaning their wives become demon possessed and are into Witchcraft.
(VN: here is the explanation for the denver airports satanic theme as well as its NWO theme which is suppose to be a NWO of Satan.)
But then again with $50 Billion in the Millman Family Trusts Laundered through the Denver County Courts of narcotics money and money stolen from the U.S. Government and Investors does Elaine Ruth Millman really give a rat's a__?
The future child of Leonard Millman since his Alien possession in the late 1950s or early 1960s will bear a Nephilim blood line as described in Geneisis Chapter 6 of the Bible and also have an Alien Brain.
I will be writing on these Humans Creatures in one of my next articles:
"Denver's Illuminati Princess a Psychotic Manipulator and a look at Leonard Millman Illuminati Wizard of Oz to see how they do their Voodoo Magic" using the Alien Brain.
(VN: I hope its usable information so we can convert it to good)
These power hungry and greedy Evil humans like Len Millman and Daddy Bush desire to rule the world they only breed for one purpose to be reincarnated into their own Daughters, Granddaughters or Great granddaughters. They can live to be 150-200 years old this is why Leonard Millman has started a new family when the Denver generation dies off his new and younger family will be available for him to be reincarnated into.
Then in 50 years when diseases are all cured Millman will be able to live to be 200-600 years old and of course younger woman willing to marry for money to give the Illuminati Alien Brain Leonard Millman more off spring to have available for reincarnation which is a fantasy and illusion in the Human who is now possessed by the Alien Brain.
(VN: except for RH negs, yes, indeed, we will see.)
Remember the Aliens are the Fallen Angels cast out of Heaven to the Earth they are here to test us Humans as part of GODS divine plan. What a surprise Leonard Millman will have when he actually dies as he screams at the Devil saying you promised me that I would go back. LOL
Many of the reasons these Alien Brains are able to live to be 150-200 years old is because of the 6
th
, 7
th
,8
th
, 9
th
, 10
th
, 11
th
and 12
th
senses the Aliens-Fallen Angels have. When the Humans like Leonard Millman are demonically possessed by this Creature, the Alien takes over Millman's brain and has the new senses for example to identify a brick falling out of the side of a building that will fall on his head and kill him so his senses tells him to step out of the way.
Or example, the Alien-Fallen Angel possessed Leonard Millman is driving down the road he senses a car about to run a stop sign and kill him he immediately stops to avoid death. Or for example, a ticked off Investor whom Millman stole $10 million dollars from through Millman's typical Frauds shoots a .50 caliber bullet at Leonard Millman's head, the Alien Brain senses the bullet coming and immediately hits the ground and avoids death. But the Alien Brain can be brought to Justice if the U.S. Attorney General would do his job that he is paid by U.S. Taxpayer to do.
(VN: Oh, come on, these evil ones have been to perfect in their take over, do you really think they would miss putting one of their own in the Attorney generals office? Further, justice has been put under the zionist controlled Homeland Security, so if the AG doesn't stop it, then the Zionist controlled Homeland security will).
Anton was the author of the Satanic Bible and a very evil man that promoted Satanism heavily to Hollywood stars. As a Satanist he taught the exact opposite of what Jesus taught. Here's a small sample of Anton Lavey's twisted mind.
"There is a beast in man that should be exercised not exorcised."
– Anton Lavey
Anton Lavey's son, Anthony was groomed to take over the Church of Satan from a very young age. He met George HW Bush and others on the Council of 13 with this father on many occasions.
(L-R) Anthony Levay and Anton Lavey
When Anthony was just 10 years old he began rebelling against his father and was punished severely for it! He was understandably scared of these men in the Council of 13 because he knew firsthand what they were capable of doing.
Anthony eventually was able to break away from his father to become a Christian minister in California but not before he was savagely castrated during one of the satanic sacrifices. Anthony states in the interview that George HW Bush and Leonard Millman were at the ceremony where he was castrated!
Beside the main blood sacrifice, other children are molested and tortured at the pre-ritual ceremonies which often gives them multiple personalities to be used as MK Ultra type agents for the Illuminati such as Denver's Illuminati Princess a Psychotic Manipulator.
Listen to this exclusive interview below where Anthony describes being locked in the big house's tunnel with Illuminati Council of 13 Leonard Millman's only son Scott Millman of Denver.
I will be writing on these Humans Creatures in one of my next articles:
"Denver's Illuminati Princess a Psychotic Manipulator and a look at Leonard Millman Illuminati Wizard of Oz to see how they do their Voodoo Magic" using the Alien Brain.
In the interview I did with Anthony, he relates that the U.S. government gives the Satanists free reign to commit these atrocities on children and protects them through the corrupt court system!
Anthony further states that his father actually faked his own death in 1977 to continue to run the Church of Satan in secret. Anthony didn't know his father wasn't dead until he received a letter from him many years later.
Anthony says his father was put into protective custody by the U.S. Government and was involved with both Bushes (George HW Bush & George W. Bush) in regards to drug running.
"It's been known for quite some time that the Bush family are Generational Satanists" – Anthony Lavey
Very few people have ever heard my interview with Anthony because it's been heavily censored by the fake alternative media shills pointing the finger at the lowly Bilderbergs and Bohemian Grovers instead.
Anthony was actually threatened with death after doing the interview with me. In the interview Anthony discusses the satanic sacrifices he witnessed and and he recalls when he saw George HW Bush and son George W. Bush at one particular sacrifice he witnessed.
I was given the following photograph of George HW Bush by German Intelligence as a favor which shows Daddy Bush wearing the satanic Knights Templar 77 hat with the goat headed demon.
Can a Christian wear the goat headed demon? The level is 34-99 in the top Satanic level the picture of Bush was years ago now he has risen to the top 12 who control the economies of the world worth nearly $60-$100 Trillion dollars.
Daddy Bush the Illuminati Wizard of Oz
This photograph is further proof that Daddy Bush is certainly not a Christian and as Anthony correctly states in the interview, you cannot be a Christian and be a member of Skull and Bones!
George HW Bush and George W. Bush are admitted Skull and Bones members and have never publicly renounced their membership.
Leonard Millman and George HW Bush were both member of Skull and Bones a Satnic Occult at Yale when they graduated.
Video of George W. Bush Admitting Skull & Bones Membership at Yale
Why has U.S. Secretary of State John Kerry Skull and Bonesman "Satanic Occult Member" lied to the World about the Syria Government? Could it be that his Illuminati Wizard of Oz Boss Daddy Bush is giving the orders?
Gordon Duff
Veterans Today Editor has reported evidence videos reports that U.S. President Barack Obama and John Kerry are liars.
I urge everybody to listen to Anthony's shocking interview below and also to the interview I did with Gordon Duff Editor VeteransToday.com at the end that proves
Daddy Bush is worth upwards of $60 Trillion dollars
! He stole this money from the American people!
Spread these important interviews everywhere to break through the censorship blockade of the fakes in the alternative media! This information must now be shared everywhere to wake up the rest of American to the ultimate truth on who runs their government – Illuminati Zionist Satanists!
Isn't a Human Sacrifice Murder One?
Punishable by Death?
Having sex with children at a pre-ritual party isn't this a Pedophile?
Don't we as a Society punish such sex offenders?
Where is the U.S. Attorney General Eric Holder?
Where is the Colorado Attorney General?
Do we need an American Revolution to bring in Justice for all?
My Interview with Anthony Lavey
(START LISTENING AT 6 MIN. 20 SECS TO GET TO THE INTERVIEW STRAIGHT)
BUSHES HUMAN SATANIC SACRIFICES AT THE KIMBALL-CHEROKEE
CASTLE IN SEDALIA COLORADO REPORTED BY STEW WEBB SINCE DEC. 2001
AFFIDAVIT OF REVEREND CHRISTIAN JESS A. LAVEY
THE SON OF ANTON LAVEY FOUNDER OF THE CHURCH OF SATAN IN AMERICA
AUGUST 1, 2005
STEW WEBB,
I REMEMBER THE KIMBALL CASTLE WELL, WHEN I WAS 10 YEARS OF AGE, I REMEMBER MY PARENTS TAKING ME THEIR MANY TIMES AND RITUALS BEING HELD THEIR. THE MEMORIES ARE LIKE YESTERDAY. I REMEMBER SPENDING THE NIGHT IN ONE OF THE BEDROOMS THAT WAS VERY SCARY TO ME IN WHICH I NEVER SLEEP WELL WHEN WE DID GO THEIR. IT SEEM MOST OF THE TIME VERY DARK AND WITH A MUSKY SMELL ABOUT IT. THE ROOMS WHERE BIG. MY FATHER ANTON LAVEY SPENT A LOT OF TIME THERE. I NEVER LIKED GOING THEIR AT ALL.
I REMEMBER BEING FORCE TO WATCH RITUALS AND I HATED THAT TOO. FOR THE MOST PART I NEVER COULD FORGET THE COUNSEL OF 13.VERY WICKED LOOKING MEN. WHEN I REACH THE AGE 12 MY FATHER TOLD ME I HAD TO GO BE FOR THEM BECAUSE OF MY REBELLION AND BEING OPPOSED TO WHAT I WAS TO DO. THAT WAS THE TIME I MET THESE MEN, THEY WARNED ME OF WHAT COULD HAPPEN TO ME IF I DID NOT DO AS THEY SUGGEST.
GEORGE H. W. BUSH SENIOR WAS ONE OF THESE MEN. I STOOD BEFORE THEM AND TOLD THEM I WAS NOT GOING TO FOLLOW THEIR WAYS AND I WAS NOT GOING TO TAKE MY DADS PLACE. AND THAT THERE WAS NOTHING THEY COULD DO TO ME. MY FATHER WAS SO EMBARRASS HE COWERED IN HIS SEAT. I TOLD THEM I BELIEVE A HIGHER POWER AND THAT HIGHER POWER SAID IN HIS WORD THAT NO HARM CAN COME TO ME. SO BE IT AND I TURNED LEFT. THEY NEVER SAID A WORD BACK. I THINK THEY WERE ALL STEWING OR STRUCK WITH SHOCK. I KNOW MY DAD WAS. "OUT OF THE MOUTHS OF BABES" I ALL SO REMEMBER SCOTT MILLMAN, WE WERE ALL THE SAME AGE THERE WHERE OTHERS BUT I DON'T REMEMBER THEM AS WELL AS I REMEMBER SCOTT MILLMAN,
I THINK IT'S BECAUSE WE TALKED TO EACH OTHER A LOT. I DO REMEMBER A TUNNEL UNDER THE BUILDING WHERE SCOTT AND I WHERE TAKEN ONE NIGHT AND IT WAS NOT GOOD, TO THIS DAY I FREAK A LITTLE TALKING ABOUT IT. SOME SAY THERE IS LIGHT AT THE END OF A TUNNEL," WELL THERE WAS DARKNESS AT THE END OF THIS ONE WHERE SATANISTS COME TOGETHER AND DO UNSPEAKABLE THINGS. THE ACTS ARE OF A NIGHTMARE. THE ACTS DONE TO KIDS ARE UNSPEAKABLE. TO THINK THAT BUSH AND HIS WHOLE FAMILY IS A PART OF THIS KIND OF THING IS HARD FOR SOME PEOPLE TO BELIEVE. BUT THE LORD WARNS US ALL ABOUT THE DARK ONE IN SHEEP'S CLOTHEING.
THE WHOLE BUSH FAMILY ARE SATANIST. I REMEMBER BUSHES FATHER WELL ON THE COUNSEL OF 13.THESE ARE GEN. SATANIST, RUN DOWN THE FAMILY LINES. I HAVE MET BUSH JR. ONCE WHEN HE CAME TO A RITUAL AT THE CASTLE ONCE WITH HIS FATHER. MY THOUGHT WHEN I MET HIM IS STILL THE SAME AS TO DAY. HE IS VERY COLD MAN FOR SATAN. LIKE A LETHAL WEAPON.
REVEREND
JESS A. LAVEY
Anthony thought as I did that the Satanic Human Sacrifice was in a Castle in fact it was the Old Nave in Downtown Denver.
Gordon Duff – Stew Webb Interview
Don't miss this interview. You'll learn more truth in this interview than a lifetime of fake news.
FBI-ATF Raid on California Satanic Occult
Every Human needs to see this video:
FBI-ATF Raid Satanic
Human Sacrifice Video
every Human needs to watch this:
http://www.youtube.com/watch?feature=player_detailpage&v=JamK8hhILHQ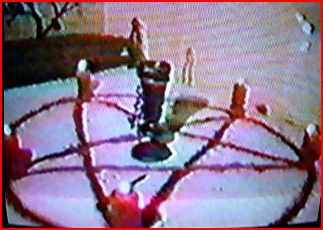 Exclusive Illuminati Alien Photo Area 52, Nevada 20,000 years old
"Illuminati: The bloodlines families of the west including the Bush's, Millman's and Mizel's definitely have interaction with beings that I would also call djinn, but who they call demons, or daemon.
The USA and the UK top power brokers behind the scene interact with these beings during very unpleasant rituals and ceremonies. I noted that the countries slotted for invasion and takeover, were always countries who's central economies were not 'hooked' in directly to the global economy. To me, THAT was the determining factor about who was going to be liberated or invaded by those controlling the USA".
-From US Intel to Stew Webb Federal Whistleblower
---
The article is reproduced in accordance with Section 107 of title 17 of the Copyright Law of the United States relating to fair-use and is for the purposes of criticism, comment, news reporting, teaching, scholarship, and research.