Vatic Note:
Is this the reason for the Walmart Stores? To act as a staging area for military take over of America???
This below speaks for itself, and I don't feel that I need to analyse the obvious. The take over of this nation, has begun in seriousness. Now we find out just what we are made of. Will the Zionists be right about us and be cowards and do whatever they tell us to do? Or will we be of the same calibre as our forefathers. Its going to be interesting to see which it is.
What is also going to be interesting is to see the strategy they have decided to use to take us over without having taken our guns. It appears they are going to split the nation into two camps and take down those states they perceive as leaning against the globalists. That will be dependant on how many governors they were able to install who are dual citizens of Israel and whether they have complete control of them.
The evil demonic ones are going after the highly trained and specialized veterans and taking them out of the equation. They started with the homeless and are now going after the others. We will definitely see how this interacts with the Walmart stores and we better never forget the treason walmart is committing as we speak.
NEVER FORGET.
US SPECIAL FORCES IN YEMEN TAKE OVER AMERICAN WALMART STORES.
http://www.eutimes.net/2015/04/us-special-forces-in-yemen-take-over-american-walmart-stores/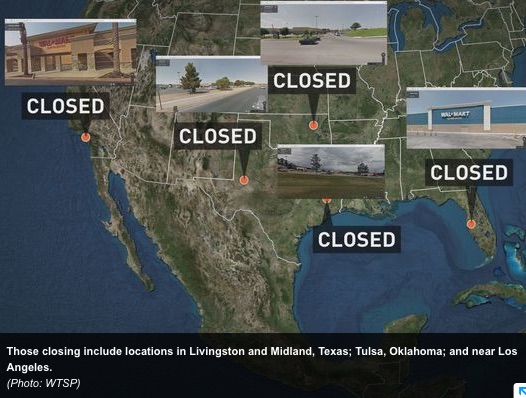 An intriguing Foreign Intelligence Service (SVR)

report

circulating in the Kremlin today is expressing puzzlement as to why the United States top Special Forces command, that is currently directing the war in Yemen against Houthi rebel forces, has this past week taken over a number of Walmart stores in America and is now converting them to Command and Control (C2) Centres.
According to this report, SVR

electronic

intelligence analysts tasked with overseeing their American counterparts this past week indentified a series of mysterious communications between the United States Special

Operations

Command (SOCOM), located at MacDill Air Force Base (MCF) in Tampa, Florida, their subservient counterpart located at the US Naval Expeditionary Base Camp Lemonnier in Djibouti (where the war in Yemen is being directed from), and… of all places… from a suddenly closed Walmart store in Brandon, Florida just 20 kilometers (13 miles) from their main headquarters.
In following these SOCOM communications, this report says, a further strangeness was discovered when C2 links were also found existing between the, likewise, suddenly closed Walmart store in Pico Rivera, California and the massive US Marine base Camp Pendleton located 119 kilometers (74.0 miles) apart… a suddenly closed Walmart store in Tulsa, Oklahoma, and the Tulsa Air National Guard Base (TANGB) located 16 kilometers (10 miles) apart… a suddenly closed Walmart store in North Midland, Texas, and Fort Bliss, El Paso, Texas, located 416 kilometers (259 miles) apart… a suddenly closed Walmart store in Livingston, Texas, and the highly secretive US Homeland

Security

base located at the Ellington Field Joint Reserve Base (EFJRB) in Houston, Texas, located 119 kilometers (74 miles) apart.
As to why all of these Walmart stores spanning the entire length of the United States were suddenly closed, this report continues, US news sources are

reporting

that they all mysteriously experienced the exact same plumbing problem… but which local news sources, from California to Florida, quickly discounted as being not true.
More ominous, however, of the sudden closing of these Walmart stores, this report states, is their location in what has been described as the "main combat target zone" of a massive SOCOM military exercise planned for the United States called "Jade Helm", whose ending in September (coincidentally?) exactly coincides with the 6 month date all of these stores have stated they will remain closed for until they reopen. (VN: so we get to watch their role in all of this and remember it when its all over, and NEVER FORGET IT. Nur

emberg trials anyone?

"TREASON IS A DEATH PENALTY

OFFENSE"

)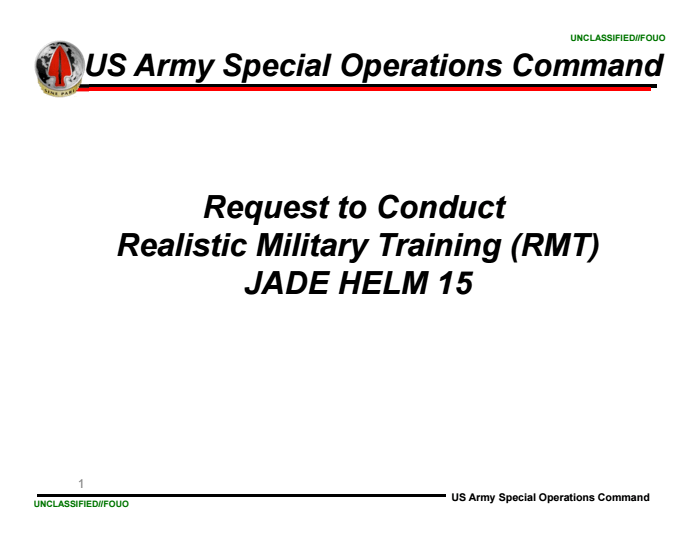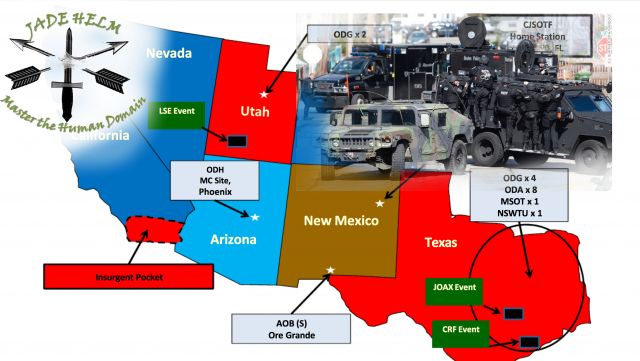 To the massive "Jade Helm" military exercise itself, this report continues, it is an 8-week US

domestic

battle plan scheduled to begin on 15 July, and last until 15 September, encompassing the US States of California (mostly friendly but with an "insurgent pocket"), Utah (enemy State), Arizona (friendly State), Nevada (friendly State), Colorado (friendly State), New Mexico (neutral State), Texas (enemy State), Mississippi (not designated) and Florida (not designated). [Note: Mississippi and Florida were late additions to this military exercise.]
And according to the unclassified Request to Conduct Realistic Training – JADE HELM 15 (RCRT-JH15) posted by SOCOM describing this massive domestic military exercise they further state about

it

:
"This is a challenging eight-week joint military and interagency (IA) unconventional warfare (UW) exercise conducted throughout Texas, New Mexico, Arizona, California, Nevada, Utah and Colorado.

(VN: is Colorado now "leaning friendly" to the traitors doing this to us? I ask because their name

has been taken off the list of states involved.)



The seven states and divided regions therein are designated as hostile, permissive, uncertain (leaning hostile) and uncertain (leaning friendly), with, for example, California designated as a largely blue (permissive) region with a small portion of the south in red (hostile) based on insurgent activity in the area. Here is a graphic of the exercise's geographic layout.
Exercise participants come from across the Department of Defense and U.S. government, and include U.S. Army Special Forces Command (Green Berets), U.S. Navy SEALs, U.S. Air Force Special Operations Command, U.S. Marine Corps Special Operations Command, U.S. Marine Corps Expeditionary Units, 82nd Airborne Division and some interagency partners (likely, but not confirmed: FBI, CIA, DHS and others).
The RCRT states upfront the goals that the exercise hopes to accomplish: to improve the unconventional warfare capability of U.S. special operations forces as part of the national security

strategy

, and to determine the pros and cons associated with the exercise."
Left unsaid/unanswered by SOCOM, or any other US authority, this report asks, is why the American militaries special forces and domestic intelligence/security agencies even need to conduct such an exercise as the United States (people/society/transportation/etc.) is so unique that the only information that could possibly be gained is in how to subjugate/suppress their own citizens as the knowledge gained could not possibly apply to any other nation on Earth?
Even more grimly to note about this "Jade Helm" "adventure", SVR intelligence analysts in this report state, are that SOCOM forces are apparently honing the tactics they will soon be using against their own citizens in America… including mass starvation… in Yemen.
The reason(s) for this being so, they continue explaining, is due to both Yemen and the United States having the largest per capita ratio of privately owned guns in the world, a situation which has enabled both of these nations to be deemed "unconquerable" by Federation war experts.
But to the greatest (potential) horror of what SOCOM's "Jade Helm" is really about, this report grimly concludes, can be heard in the words of the late US Army Veteran and FBI informant, Larry Grathwohl, who in 1982 described in chilling detail the Obama regimes "fellow travelers" logistical master plan to kill tens of millions of Americans… and by using these closed Walmart stores as C2 centres to weed them out would certainly be something they could do.
Source
---
The article is reproduced in accordance with Section 107 of title 17 of the Copyright Law of the United States relating to fair-use and is for the purposes of criticism, comment, news reporting, teaching, scholarship, and research.