The Sumerian Sun god enters Earth through a gateway.
"To King Nebuchadnezzar in the reign of Saddam Hussein".
Hussein's rebuilt
Ishtar Gate, Babylon
Sample of early cylinder seal.
Akkadian seal impression (2340-2180 BC) depicting Gilgamesh's journey beyond the gates at the end of the Earth guarded by doorkeepers tending ringed (or ringing) posts. He met Utnapishtim (the Sumerian Noah) at the source of the waters of immortality. British Museum.
"And a mighty angel took up a stone like a great millstone, and cast it into the sea, saying, Thus with violence shall that great city Babylon be thrown down, and shall be found no more at all. And the voice of harpers, and musicians, and of pipers, and trumpeters, shall be heard no more at all in thee; and no craftsman, of whatsoever craft he be, shall be found any more in thee; and the sound of a millstone shall be heard no more at all in thee; And the light of a candle shall shine no more at all in thee; and the voice of the bridegroom and of the bride shall be heard no more at all in thee"
"And Babylon, the glory of kingdoms, the beauty of the Chaldees' excellency, shall be as when God overthrew Sodom and Gomorrah."
"Howl ye; for the day of the LORD is at hand; it shall come as a destruction from the Almighty," (verse six).
1.) God's overthrow of Sodom and Gomorrah (a blast of light from heaven) and

2.) the Day of the Lord (the return of Planet X).
'a tree in the midst of the Earth, and the height thereof was great. The tree grew, and was strong, and the height thereof reached into heaven, and the sight thereof to the end of the Earth'. 22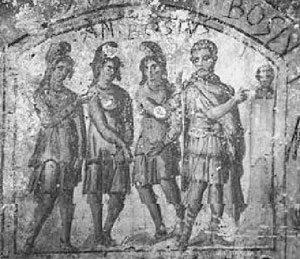 The Trial of the Three Wise Men from the Temple of Solomon. The Three Wise Men are depicted rejecting the Image of Baal -- a head atop a pillar. From the Catacomb of Sts. Mark and Marcellian, Rome, 4th century.
"The three men put on their coats, their hats and their other garments, and were cast in the midst of the burning fiery furnace" says Daniel 3:21. "Their coats, their hats, and their other garments," you say? This is an immensely meaningful statement.
---
The article is reproduced in accordance with Section 107 of title 17 of the Copyright Law of the United States relating to fair-use and is for the purposes of criticism, comment, news reporting, teaching, scholarship, and research.