Vatic Note:
And you think this is not a spiritual war? Maybe not to us, but it is to them.
They ALWAYS tell us in advance what they intend to do to us and to who. This below, in picture form, is doing exactly that. There are some very interesting pictures here, as symbolism, rather than picture story telling.
But know that their board of directors are all insiders.
I was surprised to see the Carlyle Group on the board, along with many others from high end wall street financial firms, like Morgan Stanley. The board also includes ex members of the Federal Reserve, and other such big high recognition names.
This below is a story telling effort of where they intend to take us. Its an excellent presentation of what they are trying to say about us, who are the filthy masses, while they are the elite and what we can expect, based on what they have shown us on these symbolisms painted on their walls, the worse treatment we can even imagine.
Our corporations have been taken over by our foriegn occupied criminals, and intend to take everything we have and in return will "let us work for them as slaves". Well, good luck. Read this and let us know what you think about the direction they intend to take us.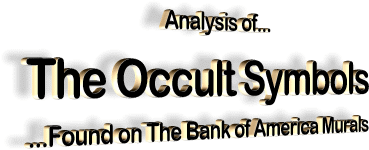 November 23, 2010
Right Fresco
Masonic Boy on Masonic Floor
"Q. On your return to the Lodge, where were you placed, as the youngest Entered Apprentice?




A. In the northeast corner, my feet forming a right angle, my body erect, at the right hand of the Worshipful Master in the east, an upright man and Mason, and it was given me strictly in charge ever to walk and act as such."
- Malcolm C. Duncan, Duncan's Masonic Ritual and Monitor
Burning Bush, Woman in Cube and Pyramid
Behind the boy is a tree on fire, which is a reference of the Burning Bush of the Old Testament.
The Burning Bush is of great importance in Masonic ritual, especially for the 33rd degree, whose members are considered to be "near the Burning Bush".



"In the third Exodus it is recordeded that, while Moses was keeping the flock of Jethro on Mount Horeb, the angle of the Lord appeared unto him in a flame of fire out of the midst of a bush, and there communicated to him for the first time his Ineffable Name.

"





This occurrence is commemorated in the Burning Bush of the Royal Arch Degree. In all systems of antiquity, fire is adopted as a symbol of Deity; and the Burning Bush, or the bush filled with fire which did not consume, whence came forth the Tetragrammaton, the symbol of Divine Light and Truth, is considered in the advanced degrees of Freemasonry, like the Orient in the lower, as the great source of true Masonic light.




Wherefore Supreme Councils of the Thirty-Third Degree date their balustres or official documents, "near the B.B." or Burning Bush, to intimate that they are, in their own rite, the exclusive source of all Masonic instruction".


- Albert G. Mackey, Encyclopedia of Freemasonry, Part 1
Stairs and Black Sun
Jacob's ladder and a black sun
Middle Fresco
Left Fresco
Sleeping Giant
What Is The Meaning of the Frescoes?
In Conclusion
prevalent occult symbolism, the heralding of a "new era", contempt for the profane masses, celebration of repression and war, etc.
they are extremely rich, extremely powerful and they don't really like you… because you are not one of Them.
---
The article is reproduced in accordance with Section 107 of title 17 of the Copyright Law of the United States relating to fair-use and is for the purposes of criticism, comment, news reporting, teaching, scholarship, and research.