***
Well, they cut this one altogether, and I found it again. These take me hours to put up after they mess with it. I put it up for today the 10th, to give it a full airing. When you read this Vatic Note and the biography of Feinstein, you will know who and what and why she does what she does. She is no less a traitor than the others. Our congress is riddled with khazars and we all know who they are, So, that is why they took this down and tried to hide it. I found it in the system and reput it up, let me know if its down again, using the email off to the side.
Watch out for sites, that do not talk about the khazars, since everyone knows they exist and who they are. Its no longer a secret. Also watch out for sites that say absolutely nothing about haarps role in the hurricane. Everyone knows, so if they say nothing, they are part of the disinfo. Its time we cleaned

house of the disinfo sites. Saves us tons of reading. lol
Vatic Note:
I decided to put this up because, SHE JUST INTRODUCED A BILL BANNING ASSAULT WEAPONS, AND YET, SHE HAS A HISTORY OF
CONCEALED WEAPONS CARRY PERMIT
AND BOUGHT HER SON-IN-LAW THE SAME ASSAULT WEAPON SHE IS TRYING TO BAN FOR US GOYIM WHOSE LIFE IS NOT WORTH A SINGLE HAIR ON the head of ONE KHAZAR, DON'T BELIEVE ME, READ IT IN THE PROTOCOLS AND THEY ARE ACTING LIKE WHAT IS WRITTEN THERE. I realize she is just a pawn as well as the President is, but there is a time when she must show love of country above her own fear for the blackmail they maybe using on her. Otherwise, she is a willing participant and that is worse. That is treason. Lots of Treason going on as we speak.
Real Jews support our second amendment and have created an organization called "Jews for the Preservation of firearms (JPFO)". They are the "real Jews". The "Semites" of the Bible, and not the mongols of the Russian steppes, WHO HIDE BEHIND THE REAL JEWS. We published much proof on here that they are pagan satanists and have no affiliation with any Jewish religion that is Torah based.
(Just look at those eyes. Remember, Satanists celebrate death, and she is a khazar working hand in hand with those destroying our nation, so that tells you what the possibilities are. She looks like a zombie of the walking dead, you can see it in the eyes, windows to the soul, but some lack that soul, so their eyes are dead. I don't care how many children these khazar satanists kill, they will never be able to bring life back into their eyes. They may have a smile on their faces, but their eyes are dead. I have seen it too many times.)
She is a dual Israeli citizen and we all know where her loyalties lie. Treason is the name of the game. She is in total violation of the Constitution by even proposing this. This commentary she made below is a must read about guns and her attitude about them and I actually agreed with her. She was determined to carry, because if someone was going to take her out, she was going to take them with her.... I said "exactly".
She is a Khazar and both coasts that are heavy Khazar population, are under
attack by Haarp,
worse than the rest of America, with the Haarp WMD AND SHE ISN'T SAYING A WORD ABOUT IT TO PROTECT HER OWN PEOPLE. So she has no compassion, empathy or caring about even her own people... so here are her vital stats, below, make this go viral to show just what a hypocrite she is as were the pharisees.....
(see the protocols, they are totally void of any empathy, humanity or compassion for anyone.... only their agenda, and that is it. She knows full well, they are using Haarp to harm their people and the country, and they are not finished yet AND DO NOT CARE. Remember in the Bohemiun grove they burn "Care" in effigy.)
THIS WILL GIVE YOU A TASTE OF OUR FUTURE
NEW WORLD ORDER
LIVING, as we documented on this blog, WITH THESE BLOOD DRINKING, BABY KILLING, CHILD SODOMIZING, WEALTH STEALING, AMERICAN CITIZEN-MURDERING MOGOLS WHO WERE SO BAD, THEY GOT KICKED OUT OF MONGOLIA. (You have to be worse than bad to get kicked out of Mongolia, which was a safe haven for criminals). IN FACT, THEY GOT KICKED OUT OF EVERY COUNTRY THEY HAVE TRIED TO SETTLE IN
AND NOW, FOR THE FIRST TIME YOU KNOW WHY.
THEY ARE DANGEROUS PSYCHOPATHIC, SOUL-LESS NEIGHBORS.
The last place she should be working is in our Constitutionally protected, freedom loving nation's government. If these elections were not just proven to be rigged, I would not have stopped there, rather said something about getting her out of office, but we just proved the elections are rigged.
Here,
here,
and
here.
SO WHAT ARE WE GOING TO DO ABOUT IT? I HAVE AN IDEA. WILL WORK ON IT AND PUT IT UP A BIT LATER after I confirm some things so we have a true foundation upon which to build, AND in the meantime, HANG ONTO YOUR GUNS, HIDE THEM SOMEWHERE AND ALL AMMO USING LEAD TO PUT THEM IN and bury them off your property.
If anyone else has any ideas, please put them forth in the comments section for discussion and consideration for us to come together nationally before they blow the madrid fault and divide the nation.
Dianne Feinstein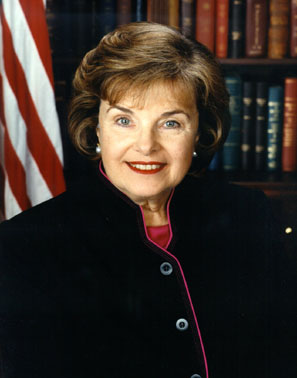 AKA
Dianne Emiel Goldman
Born:
22-Jun
-
1933
Birthplace:
San Francisco, CA
Gender:
Female
Religion:
Jewish
(VN: Khazar)
Race or Ethnicity:
White
(VN: Mongolian/Hun)
Sexual orientation:
Straight
Occupation:
Politician
Party Affiliation:
Democratic
Nationality:
United States
Executive summary:
US Senator from California
Former member of the San Francisco Board of Supervisors whose political career was given a boost by the assassination of Mayor
George Moscone
and gay supervisor
Harvey Milk
by twinkie defendant
Dan White
--
(VN: Sounds like a "Mind Control" situation just like these khazars did to JFK Jr, when he was going to run as a senator against the ultra lizard khazar Hillary Clinton. They have no compunction in assassinating someone to obtain their agenda, AND THEY WANT US TO GIVE UP OUR GUNS... HAHAHAHAHAA, YEAH RIGHT! )
Feinstein succeeded Moscone as Mayor, and was later elected to the United States Senate.
Feinstein is an anti-gun Senator who still somehow found the fortitude to obtain for herself a concealed firearms carry permit, a privilege she wants to deny others. 27 April 1995:
"Less than twenty years ago I was the target of a terrorist group. It was the New World Liberation Front. (VN: Notice the "New World..." in the name? That tells you who were the terrorists really were, just like today. Remember, they just blew up a power station in NY after the hurricane! Yup, its the same terrorists, the khazar bankers.) They blew up power stations and put a bomb at my home when my husband was dying of cancer. And the bomb didn't detonate. [...] I was very lucky. (VN: I DON'T BELIEVE A WORD OF IT, NOT ONE WORD. They have used bogus false flags for years trying to get our guns. NEVER GOING TO HAPPEN, ESPECIALLY NOW.) But, I thought of what might have happened. Later the same group shot out all the windows of my home. [...] And, I know the sense of helplessness that people feel. I know the urge to arm yourself because that's what I did. I was trained in firearms. I'd walk to the hospital when my husband was sick. I carried a concealed weapon. I made the determination that if somebody was going to try to take me out, I was going to take them with me."(VN

:

EXACTLY!!! And do it at the source as well. Gee, how is that Exxon e

xecutive doing?

)
Feinstein
claims
that she has since relinquished both the handgun and the concealed weapons permit.
In support of a flag-burning amendment, 20 July 2004:
"Our flag is recognized as unique not only in the hearts and minds of Americans but in
---
The article is reproduced in accordance with Section 107 of title 17 of the Copyright Law of the United States relating to fair-use and is for the purposes of criticism, comment, news reporting, teaching, scholarship, and research.